Updated information coming soon. Below is mostly last year's information but many things will be similar.
A trolley will be available for veterans with pick up on Atlantic St next to Veterans Memorial Park. The shuttle will run from 11:00 am to 11:30 am to take veterans to the parade start on Bedford and North St.
1:00 pm -
Memorial Day Ceremony
at Veterans Memorial park. Actual start time will be contingent on the ending of the Parade. Folding chair seats will be available to veterans who do not wish to sit on the built in park seating. A port-a-john will be available at the parade start and at the park. Check the Stamford Advocate for event advertising and articles in the next few days. The city has a
webpage
dedicated to the parade and ceremony
here
. Check as things may change.
James Lyles was born in Blaney, South Carolina, near Columbia, in 1930. His father was a farmer who served in the Army during WWI where he fought in France. His father was a farmer and his mother took care of the household of 11 children. James was number five of five boys and six girls. He had fun growing up in a four bedroom house with his siblings and had many friends sleeping over. Life in South Carolina was highly segregated at the time including places to which Janes could not go. He attended Elementary school in in Blaney but moved by himself to Columbia South Carolina not wanting to be a farmer when he was only 15. He rented a small room and worked at a Five & Dime store and Woolworths. He also worked a a state mental health hospital as a ward. James enlisted in the Army in November 1950. The initiative to enlist was a light hearted challenge between 3 friends to enlist together. Though it became serious as James was the only one of the three who was qualified to enlist. One month after that visit to the recruiter he officially enlisted and sent to Fort Jackson, Columbia, South Carolina for initial training. When James entered service the Army was segregated but he was assigned to the first training unit that was starting to integrate African Americans into the regular ranks. He training at Tank Hill in Fort Jackson for 8 weeks. He remembers training was tough but he was young and had a great experience.
Immediately after training James left on a troop train to Camp Stoneman, a United States Army facility located in Pittsburg, California, near San Francisco which was a port of embarkation for Korea. From there he sailed on a troop ship, the USS Mann, to Yokohama Japan. There he spent two weeks training at Camp Drake in Japan. He was issued his equipment to include a helmet and an M1 rifle. He recalls the M1 being a good rifle of 30 caliber that was accurate and had a magazine of eight rounds and weighed 9 pounds. He found the weather in Korea much different than that of South Carolina where temperatures could go as low as -30°F. While at Fort Drake, he was issued his uniform items which were not properly suited for the cold-weather and combat in Korea. From Japan he took an LSD (Dock Landing Ship) to the port of Pusan, South Korea located on the peninsula's southern coastline in the east. He arrived in February 1951 where it was very cold and combat was in full swing. He was assigned to MacArthur's 8th Army, 24th Infantry Regiment of the 25th Infantry Division which was an all African American unit. He was in G Company 4th Squad as a Private 1st Class. A squad typically had 20 soldiers with a non-commissioned officer, normally a Sergeant, in charge. The North Koreans and Chinese had pushed below the 38th parallel all the way to Pusan. As soon has James arrived in country he was immediately put into action where his regiment as trying to retake territory and push north. His first order was to march up a hill and this is where he witnessed his first fellow soldier fatality, which unfortunately was from friendly fire artillery. He later found out that the soldier was there on a condition from a judge to either go to prison or join the Army. James recalls how it was life-changing to see someone dead, close up. He still has trouble sleeping and has bouts of post traumatic stress disorder from his time in Korea. His was assigned to a weapons squad that carried 57 caliber mortars, Bazookas and 50 Caliber machine guns. James had learned to use these weapons back in training and now was using them in real combat.
During this campaign to push the enemy north of the 38th parallel General Ridgeway relieved General MacArthur as the commander in Korea. The fighting was a NATO effort with British and the Turkish armies on both side of the U.S. Army. The NATO allied were successful in pushing the North Koreans back north of the 38th parallel to include the fight for Pork Chop hill the fighting in the Kumhwa Valley where he witnessed the most casualties. During this fighting many American soldiers were wounded and James helped bring them to medical aid and safety. James recalled that when someone gets hurt everyone works together to get the injured away from the action and back to safety. He also recalls that the North Koreans and Chinese soldiers used garlic heavily in their food and could remember the smell of garlic which warned them that the enemy was close. James believes that if the North Koreans and Chinese had as good as weapons as the U.S. Soldiers they could have been more successful against the NATO allies fighting for South Korea. James looks back and is proud of his service while under fire.
President Truman ordered to start desegregating the Army around the time James' Division was in combat. The 24th Regiment was deactivated and James was reassigned to the 27th Infantry Regiment which was starting to be integrated. He was assigned to a company where he was the only African-American soldier. James recalls that he was treated well and was assigned as a company cook. The 27th Regiment was pulled off the line and assigned to guard Korean POWs on Koji Island. It was there that James was called and ordered to return home. He returned in December of 1952 to Pusan and boarded the troop ship USS Pope back to San Francisco and left his combat gear in Korea. He then took a troop train back to Fort Jackson. He recalls that a soldier survived combat was unfortunately murdered while on leave at home due to some unfortunate circumstances. He recalls how you can evade death in combat but still die in peacetime.
James was then assigned to Fort Roberts in California near Salinas. He was still assigned as a cook and then sent to Fort Lewis, Washington where he was discharged and sent back to Fort Jackson. Two months later he decided out to reenlist for three more years and was sent to Fort Gordon in Augusta, Georgia. Fort Gordon was primarily a training base for military police but he was still assigned as a cook and returned back to a mostly segregated Army. He contemplated reenlisting for another tour but they were only offering him to stay at Fort Gordon as a cook but so decided in 1957 that's not what he wanted and was again discharged from the U.S. Army.
His citations include two bronze stars, the combat infantry badge and the Korean service medal.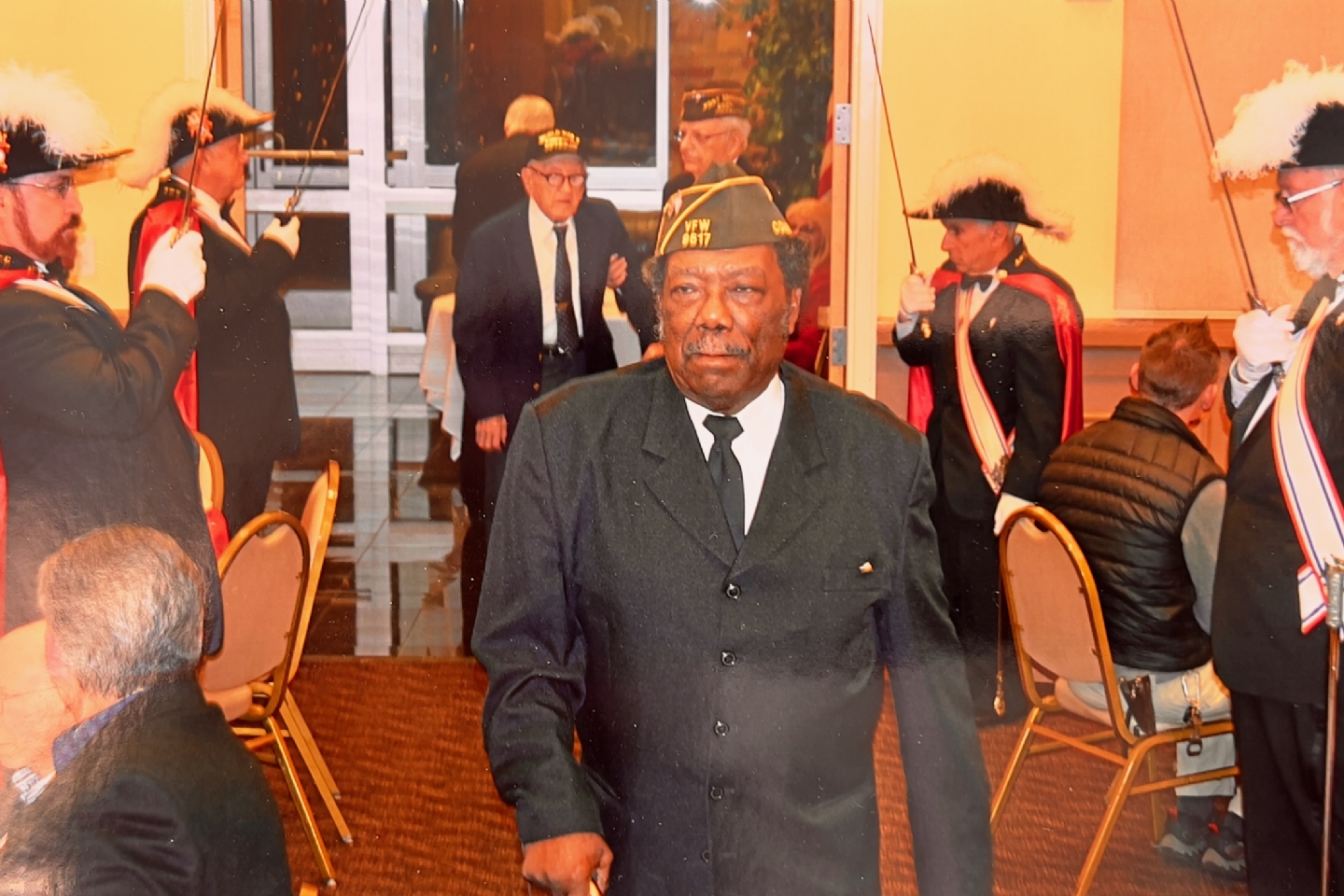 Due to his time in combat he suffered no injuries but he just remembers Korea being very cold and having trauma for seeing his fellow soldiers killed in action. Once discharged James found his way to Connecticut in February 1957 and joined his brother in Waterbury. He left for Stamford work for De Leo Brothers construction. Deciding to become an entrepreneur he opened his own business called JL record shop selling music on W. Main St. in Stamford. James loved music and was a singer with a group called the Heavenly Travelers. James had been singing since he was 13 years old and primarily sings gospel and blues. James started his record shop in 1957 and two years later 1959 married Emma his wife. They had four children including three girls and one boy. The James and Emma are divorced but they remain good friends.
His youngest daughter Marjorie spent 23 years in the Navy as a Non-Commission Officer and now lives in Maryland. His middle child Linda lives and Stamford as does his son West. Lynette, his oldest, lives in Greenville SC. James closed his record shop in 1992 and worked for Enterprise Rent-A-Car as a driver until he retired. James lives on Social Security and veterans administration disability benefits. As stated before he continues to have sleep disorders since leaving Korea. James' war service was recognized at a Stamford citizen of the year ceremony. At this ceremony, selected veterans accompanied high school scholarship recipients where the scholarship was given in the name of that veteran. He's also been recognized as veteran of the year from the Knights of Columbus and from the Stamford Senior Center. He was recently recognized for his service at the recent car show in Stamford and has also been recognized by the ELKS. James is a member of the Faith Tabernacle Missionary Baptist Church on Grove Street and still sings in the choir. He still lives in Stamford and is proud of his US Army service. We are also proud of a service and thank him deeply.