As we prepare for Memorial Day weekend, The City of Stamford along with Stamford Veterans Organizations, will sponsor U.S. flag planting at cemeteries around Stamford. Two main efforts are at Saint John and Woodland cemeteries, but we also cover other smaller cemeteries to include Queen of Peace, High Ridge and Long Ridge Cemeteries. We remember all veterans who have passed and who have protected our freedom and liberty. We honor them by planting U.S. flags next to their graves.
Location

: 25 Camp Ave, Darien CT 06820. The cemetery spans the Stamford/Darien border at the corner of Camp Ave and Hoyt St. Click here for the flier. See map below.

Day and Time

: Saturday, May 13th, 8:00 am to 11:00 am. We will plant flags until finished.

Assembly

: Meet by the cemetery office and garage, whose entrance is the last Hoyt St entrance (when heading north) just before Camp Ave. Post members will be there to assist with the flag planting directions.

Dress

: Comfortable clothing and shoes good for walking (it may be a warm day!). Wear sunscreen.

Volunteers

: Any Adult. Kids in grades K thru 12 can also come with adult supervision. All attendees will be briefed on proper flag placement. Spread the word, tell your friends!

Point of Contact

: Alan Gerard, vfwpost9617@gmail.com or 203-918-0329

Notable Fact

: The grave of SSGT Homer Wise, U.S. Army one of Stamford's WWII Medal of Honor recipients is located at this cemetery.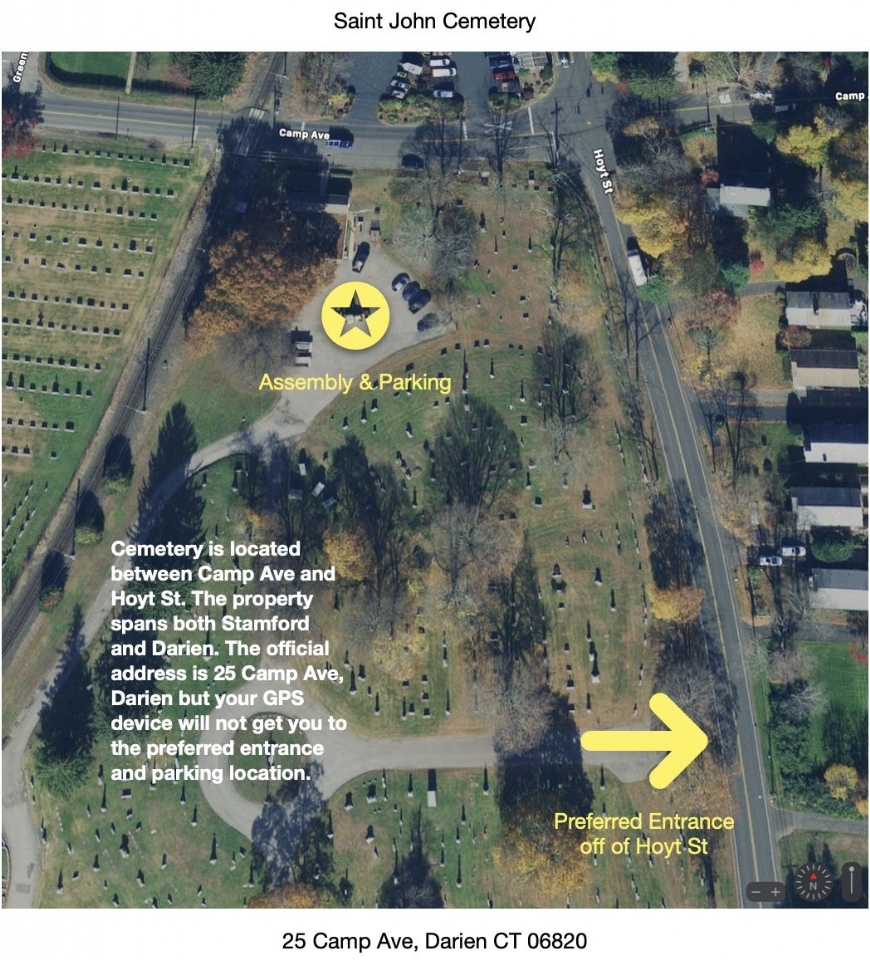 Location

: 66 Woodland Pl, Stamford CT 06902 starts at 9:00 am. See map below. Click here for the flier.

Day and Time

: Saturday, May 14th from 8:00 am to 12:00 pm (Rain or shine). Assembly time is 8:00 am with an expected start time of 9:00 am.

Dress:

Comfortable clothing and shoes good for walking (it may be a warm day!). Wear sunscreen.

Volunteers

: Any Adult. Kids in grades K thru 12 can also come with adult supervision. All attendees will be briefed on proper flag placement. Spread the word, tell your friends!

Point of Contact

: vfwpost9617@gmail.com