Stamford Veterans Council
and
Stamford Veterans Park Partnership
Pearl Harbor Remembrance Day
Wednesday, 7 December 2022, 2:00 pm
Veterans Memorial Park
There is no rain date but the ceremony will continue if possible and
might locate to a location under cover next to the park.
Check back here for updates.
Rain likely, mainly before 10am. Cloudy, with a high near 58. South wind 3 to 6 mph.
Weather might be good for outdoor ceremony.
We will shift indoors near the park if necessary.
. The Naval History and Heritage Command has a wealth of resources, including the story of the attack, oral histories and survivor reports, related ships and more. Click here.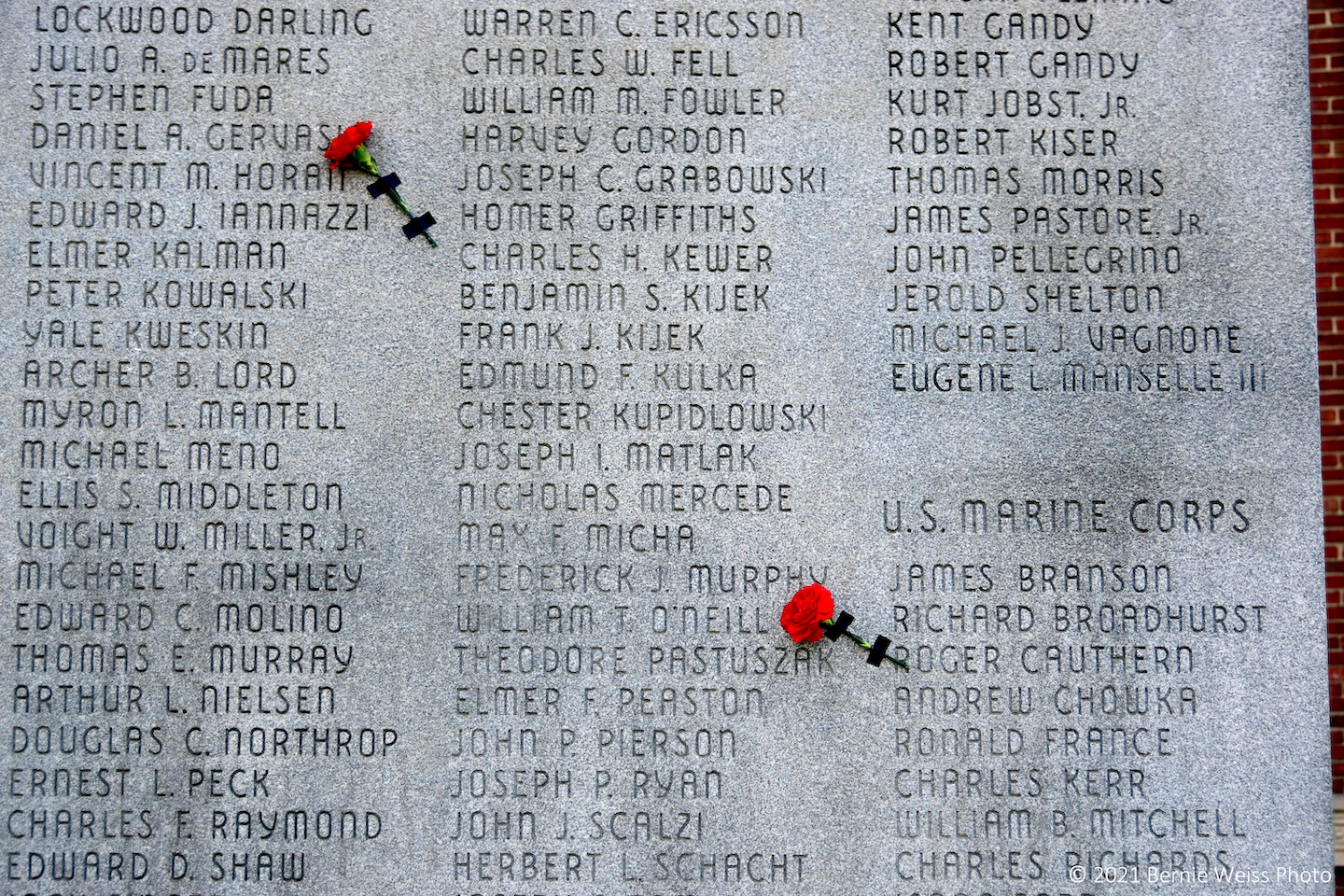 Let us remember those Connecticut Residents who died on this fateful day.
LTJG Eric Allen USN - USS Enterprise - Darien CT
SK3C Henry Ludwig Carlson, USN - USS Arizona - Norwich CT
ENS Edward W. Gosselin, USNR - USS Arizona - Hamden CT
Cpl Vincent M. Horan, USAAC - Wheeler Field - Stamford CT
Coxswain Henry John Lanquette, USN - USS Arizona - Wallingford CT
Seaman First Class John Kallervo Lunita, USN - USS Nevada - Colinsville CT
ENS William Thomas O'Neill Jr., USN - USS Arizona - Stamford CT
S2C Stanislaus Joseph Orzech, USN USS Arizona Meriden CT
PO3 Richard Jr. Patterson, USN USS Arizona-Berlin CT
S1C George Povesko, USN - USS Arizona - Bridgeport CT
S1C Mike George Quarto, USN - USS Arizona - Norwich CT
Chief Thomas James Reeves, USN - USS California - Thomaston CT
S1C William Eugene Seeley, USN - USS Arizona - New London CT
Pvt George Smith, AAF - Hickam Field - New Haven CT
2nd Lt Gordon H. Sterling, Jr., USAAC - Wheeler Field - Hartford CT
Pvt Felix S. Wegrzyn, USAAC - Hickam Field - Bridgeport CT
ENS Ulmont Irving Whitehead Jr., USN - USS Arizona - Hartford CT